For more than 30 years, ACCADUEO is the top event for the Italian and international water service.
The green transition will lead the 2023 edition programme. Sustainability as the cornerstone of all the relevant issues, from water purification to the re-use of wastewater, mud, water main and supply management. Conferences and meeting to build together the industry future.
FIELDS
---
Water extraction, channelling and storage
Water and wastewater treatment and reuse
Products and technologies for water use in the civil or industrial secto
Irrigation
Analysis and measuring instruments
Automation
Components
Engineering and service companies
VISITORS
---
Manufacturers, distributors and importer
Installers and agents
Representatives of national, regional and local institutions
Representatives of utilities
Representatives of user industries
Engineering companies
Industry associations
Research institutes
EXHIBITION AREA MAP 
---
PAVILION 25-26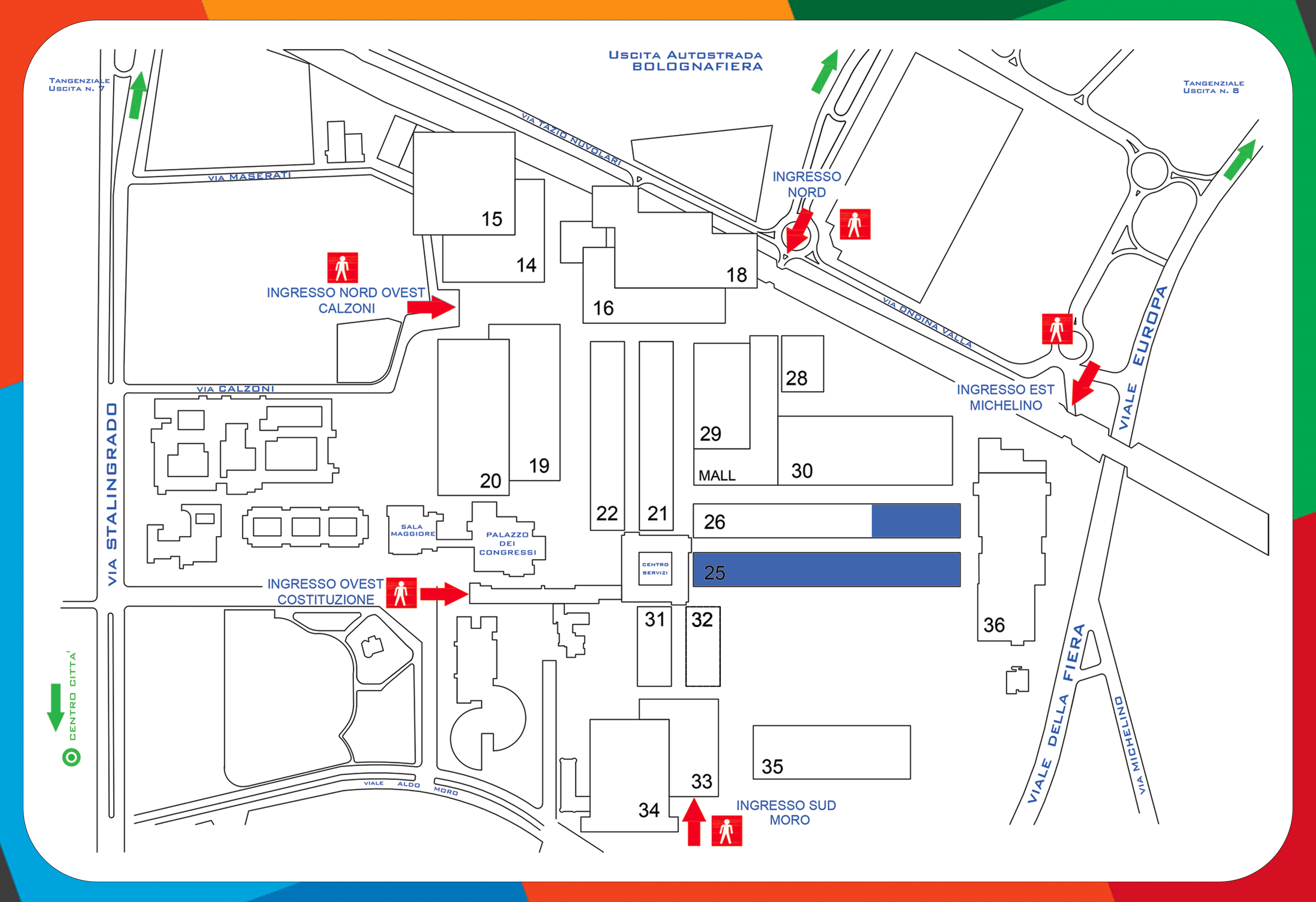 INFO
---
OPENING DATE AND TIMES
11th – 13th October 2023
For visitors: all days from 9.30 am to 6.00 pm
For exhbitors: all days from 9.00 am to 6.30 pm
ADDRESS AND ENTRANCE
Main entrance in Piazza della Costituzione, 5, 40128 Bologna

HOW TO GET
BY PLANE
"Guglielmo Marconi" Internartional Airport is 4km away from the exhibition area. Several lines link Bologna with Italian, European and Extra-EU destinations.
BY CAR
Bologna is well connected to all italians highways
Main entrance in Piazza della Costituzione, 5, 40128 Bologna.
BY TRAIN
BolognaFiere is just 10 minutes away from Bologna Central Station.
Bus service (From Central Station to Piazza Costituzione and Viale Aldo Moro entrances)

Central Station > Exhibitions Area = lines 35 e 38
Exhibitions Area > Central Station = lines 35 e 39
BY TAXI
For Radio Service Taxi
Tel. 051.372727 (24-hours)
Tel. 051.374300 - 8.00 am - 17.00 pm (weekdays only)
Tel. 051.4590 (24- hours)

Taxi reservation service:
Tel. 051.374300 - Ore 8.00 - 17.00 (weekdays only)

Wheelchair-accessible Taxis
Tel. 051.4590 (24-hours)
PARKING AREAS
Visitors Parking area is near the fair entrances. Daily price is €20,00

Costituzione Entrances: Parcheggio Costituzione